TOP > Status for Work (Working VISA)
Status for Employment
There are several status for a foreign national who wish to stay and work in Japan.
The following "Status of Residence" are categorized into working visa.

And some of is defined for a person who works in Japan.
Requirements of each Status largely vary and depend on academic backgrounds and/or working experience, etc. of an applicant.
Graduation and the Status Change for Work
If you are graduating from a school or already graduated and would like to work in Japan, you need to change your status of residence for work.
Appropriate Status of Residence may depend on the type of work, organization where you will work, etc. But if you have a BA or BS degree from a university, the most popular status is .
In order to apply for , you need to have a position offer from your employer. And, it is important that you need to apply for the status change before your present status expires.
Immigration Assistance
As a registered immigration/visa specialist or "Gyoseishoshi", we can offer various services related to immigration procedures.
Services we can offer are

Consultation - to find out Status of Residence/Procedures that may best suit you and/or your family member, etc.
Documentation - to prepare and/or advice the documents you need to submit to the Immigration Bureau
Representation/Agency - to submit the documents and communicate with the Immigration Bureau on your behalf

and so forth.
Please let us know your situation. Inquiry Form
Office Outline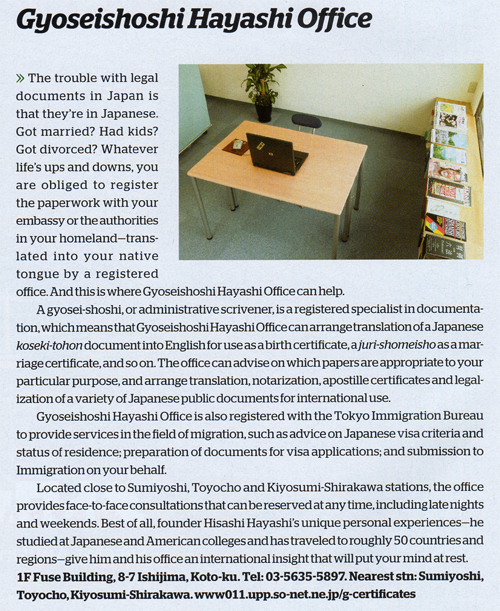 | | |
| --- | --- |
| | ARTICLE on METROPOLIS NO 852 |